Every year there are millions of people who go with little to no food, suffering from hunger, and often malnutrition as a result. In a struggling world economy, the numbers continue to grow. There are 25,000 people every day who die from hunger-related causes. Luckily, many organizations and programs work to provide food for people who do not have enough.


Food Not Bombs
, is an organization that seeks to do just that. Run entirely by volunteers, Food Not Bombs activists believe having basic needs like hunger met is a right, not a privilege. Food Not Bombs is founded on the belief that "no one should be without food in a world so richly provided with land, sun, and human ingenuity" and that "the world produces enough food to feed everyone, if distributed equally."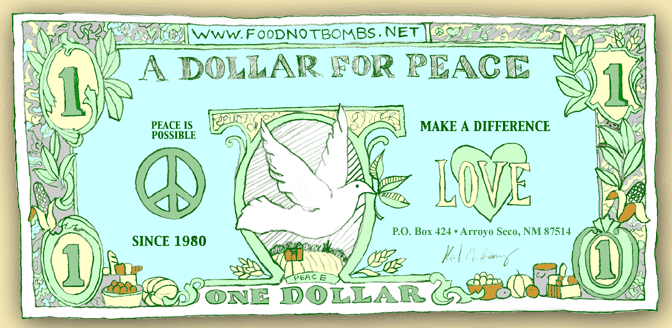 Food Not Bombs' A Dollar for Peace campaign centers around being able to provide about 4 meals for as little as $1.00. They have roughly 400 chapters around the world (new ones sprout up every day) that provide free healthy, sustainable vegetarian and vegan meals weekly meals in over 1,000 cities around the world to people who would otherwise not have any or adequate food. They often utilize food that would otherwise have been thrown away as waste by grocers and bakeries to nourish the homeless and hungry, day care centers, and families of workers on strike. Through providing food for people, they are making sure those people are taken care of in some small way.

"No consideration of money, no demand for profit, should stand in the way of any hungry or malnourished child or any adult in need," according to Food Not Bombs. They want to make this message clear by setting up to distribute meals in very visible places. Yet they do much more than nourish the hungry, also seeking to empower and sustain progessive movements. Their meals also feed people at important social justice events around the globe like peace rallies, environmental and animal rights demonstrations, striking auto workers in Korea, and Peace Camps on the West bank of Palestine. In addition to their efforts to end hunger and support peace, Food Not Bombs has started animal shelters, planted community gardens, and organized programs like Homes Not Jails to house the homeless. Every dollar contributed to A Dollar for Peace will go directly towards ending hunger, poverty and war.

This year, EtsyVeg is supporting the Dollars for Peace program through a week long promotional event in which 10% of all sales made in participating shops will be donated to Food Not Bombs' Dollar for Peace campaign! For just one dollar you can help build a world based on peace and justice. We invite you to learn more about this great program and ways you can help by visiting their
website
.

Please support our effort to raise funds for this amazing organization by shopping handmade for the holidays with participating EtsyVeg shops!